This is my first code golf so please let me know if it's too broad or if I'm missing any information for a good puzzle!
Challenge
In Ontario and possibly other areas of the world, electricity is billed using Time-Of-Use (TOU) pricing, which varies the cost per kilowatt-hour according to when you use power.
Given a date and time, I want to know whether I'm in an on-peak (red), mid-peak (yellow), or off-peak (green) time period.
Input
Assume that input is provided in an acceptable timezone-less ISO 8601 date-time format with the minimum precision of hours: YYYY-MM-DDThh[:mm[:ss]] (the T is literal).
Examples
2014-09-01T14
2014-09-01T17:30
2014-09-01T17:30:02
Output
The output should be a string On, Mid, or Off.
Rules
Shortest code wins
For the purposes of this challenge, ignore statutory holidays
Assume the information found in this post. The actual rules of time-of-use pricing might change in the future by the Ontario Ministry of Energy.
Information
Summer weekdays (May 1st to October 31st)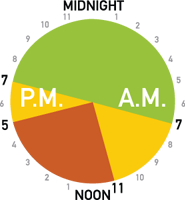 Off-peak: 19h00 - 07h00
Mid-peak: 07h00 - 11h00 and 17h00 - 19h00
On-peak: 11h00 - 17h00
Winter weekdays (November 1st to April 30th)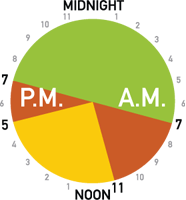 Off-peak: 19h00 - 07h00
Mid-peak: 11h00 - 17h00
On-peak: 07h00 - 11h00 and 17h00 - 19h00
Weekends