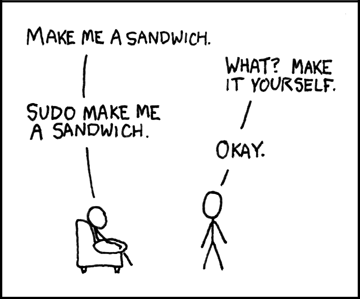 Challenge: Write a makefile, which would lead to this behavior:
% make me a sandwich
What? Make it yourself
% sudo make me a sandwich
Okay

Rules:
Should work on a Linux machine, where the user isn't root but allowed to use sudo.
Must not say Okay to any shorter make command (e.g. sudo make sandwich).
The second command should work because of sudo, not because it's the second invocation.
Guidelines:
Keep it short (after all, it's a Code Golf site).
It would be nice if it would actually make a sandwich.
Try to cleverly hide why sudo makes a difference.
The winner will be decided by votes.